<em>The Atlantic</em> Politics & Policy Daily: Why Tensions With Iran Don't Mean Iraq 2.0
We're trying something new: a once-a-week national-security-focused edition of The Atlantic's signature politics newsletter. We'll tell you what to keep an eye on this week, what our reporters are covering, and why the latest foreign-policy developments are significant.

Comments or questions? Send us an email anytime. Were you forwarded this email? Sign yourself up here.

The Top Story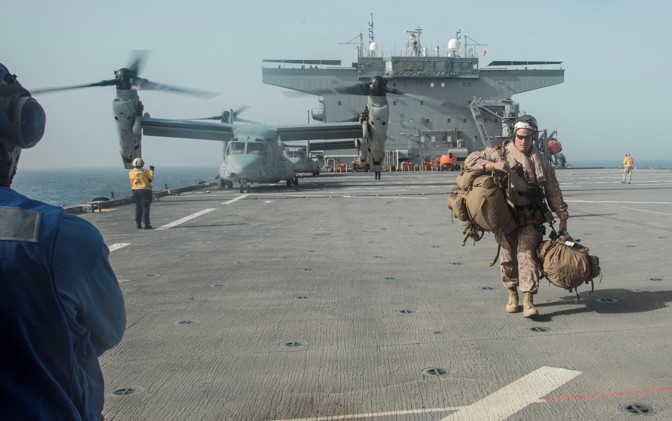 A soldier carries his gear across the flight deck of the USS Lewis B. Puller in the Arabian Gulf. (Desiree Kling / U.S. Marine Corps / Handout via Reuters)
Why Tensions With Iran Don't Mean Iraq 2.0
Iran's threat to U.S. troops is "serious and imminent," according to Senator Marco Rubio of Florida. "There are legitimate threats … to American lives," John Thune, a South Dakota Republican, said. Congressman Mac Thornberry of Texas said it's not "business as usual."
But what, exactly, are the Iranian threats that prompted the U.S. to move major military assets to the Middle East over the past two weeks? We still don't know. A report from The Wall Street Journal found that Tehran and Washington might have misread each other: Iranian leaders thought the U.S. was going to strike them, so Iran prepared a possible counterstrike. According to The New York Times, U.S. officials grew concerned after seeing photos of Iranian missiles on small boats in the Persian Gulf.
In an interview with Kathy Gilsinan and Mike Giglio, House Intelligence Committee Chairman Adam Schiff didn't deny that the intel is concerning, but he cautioned against responding quickly with an an ill-planned confrontation.
"The American public finds itself in a fog of something short of war, with few ways to assess what could be coming," Gilsinan and Giglio write. This public confusion about unspecified threats feels uncomfortably similar to the lead-up to the Iraq War—with the very important difference that the president keeps saying he doesn't want a war. Another similarity: The U.S. and its European allies are divided about the severity of the threat in the Middle East.
Conflict with Iran feels less likely than it did even at the start of the week, when The New York Times reported that the administration was considering a plan to send 120,000 troops to the Middle East if Iran attacked U.S. assets. (President Donald Trump denied that.) Asked on Thursday if the U.S. would go to war with Iran, Trump responded, "I hope not."
Watch for whether Trump continues to publicly contradict his hawkish national security adviser, John Bolton. Will Trump or Bolton offer any clues this week about the nature of the intel that pushed Washington to gear up for a fight with Tehran? As long as officials keep talking up Iran's threats while Americans remain in the dark, this saga isn't over.
***
Load more